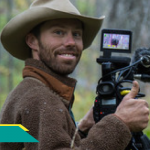 _
TITLE (POLISH TITLE):
UNBRANDED (UNBRANDED)
WEBSITE:
http://watch.unbrandedthefilm.com/
DIRECTED BY:
Philip Baribeau
YEAR OF PRODUCTION:
2015
COUNTRY:
USA
RUNNING TIME:
106 min.
SYNOPSIS:
Four young men decide to set out on a journey of their life. They are moving from Mexico to Canada along with the tamed by them wild mustangs. Through these 3,000 miles, they have the opportunity to not only get used to the animals, but also to befriend them. The distrust between the horses and the men is disappearing over time, making the journey easier and at the same time strengthening the bonds between them.
Phillip Baribeau's film is keeping the audience on the edge of their seats. The struggle with nature can be really difficult. Despite the indisputable beauty of forests and the endless mountains, nature constantly poses a serious threat, which we can overcome only by a group of people who trust each other.
TRAILER: