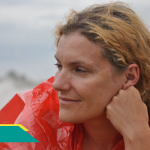 _
TITLE (POLISH TITLE):
STATE OF MIND (STAN UMYSŁU)
WEBSITE:
#
DIRECTED BY:
Daria Lipko
YEAR OF PRODUCTION:
2016
COUNTRY:
Poland
RUNNING TIME:
53 min.
SYNOPSIS:
The main protagonist of the movie is Senadin Ljubovic, a neuropsychiatrist, a Bosnian Muslim who hired Dr. Karadzic in a psychiatry clinic in Sarajevo before the war. Last time they had seen each other was right before the war started. Sixteen years later Ljubovic decides to go to the Detention Unit in Hague in order to meet with his old friend, Karadzic. This journey through today's Bosnia and Serbia serves as the main axis of the plot. The protagonist's reflections, his questions about human nature, as well as his relations with Karadzic gain a new, universal meaning. What processes undergoing in the human psyche bring on cruelty and changes in personality? Not only the doctors will try to answer that but also their patients – both victims and criminals from both sides of the conflict. Their stories are shown in retrospect and become an equally important element of the film. By juxtaposing these stories with the archives we will try to understand what the madness of war is.
TRAILER: