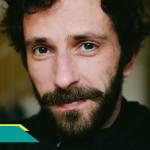 _
TITLE (POLISH TITLE):
THE GREAT WALL (WIELKI MUR)
WEBSITE:
http://www.ifi.ie/film/the-great-wall
DIRECTED BY:
Tadhg O'Suvillan
YEAR OF PRODUCTION :
2015
COUNTRY:
Ireland
RUNNING TIME:
74 min.
SYNOPSIS:
This daring documentary film brings to our minds the gloomy masterpieces of Franz Kafka. The director – hacking his way through Europe which is enclosed by various walls – stops in different European refugee camps. The systems of walls and fences create a mysterious labyrinth, meanwhile, the landscapes, often imprisoned between the walls, reflect the atmosphere of grim powerlessness. The film by Tadhg O`Sullivan shows also the contradiction between the life of the refugees and other residents of Europe. Moreover, it makes us aware of the specific sense of exclusion and of the fact that we are not receptive.
The film was shot in 11 countries and the process of filming took more than a year. O`Sullivan enriched his work with moving music, which, combined with the urban scenery, creates a very sad picture of isolation.
TRAILER: