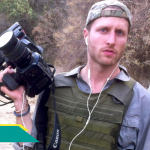 _
TITLE (POLISH TITLE):
CARTEL LAND (W KRAINIE KARTELI )
WEBSITE:
www.cartellandmovie.com
DIRECTED BY:
Matthew Heineman
YEAR OF PRODUCTION:
2015
COUNTRY:
Mexico, USA
RUNNING TIME:
99 min.
SYNOPSIS:
In the Mexican state of Michoacan, Dr. Jose Mireles, a doctor from a small town, incites people to revolt against the brutal drug mafia called the Knights Templar. They wreak havoc and fear in the region by committing brutal murders. Meanwhile, in Arizona, Tim 'Nailer' Foley – an American veteran – leads a paramilitary group the goal of which is to stop the drug war in Mexico because, as a result of that war, drugs penetrate the south-western area of the United States.
While creating the documentary, Matthew Heineman, was meeting with people who decided to bring justice on their own when all the institutions had failed. The line between the good and evil begins to blur. This war cannot be won; we also have to remember about the great influence of these events on the private lives of the film characters.
In 2015 at the Sundance Film Festival Heineman received both Directing Award and Cinematography Award.
TRAILER: